Cheat Sheet: Jessica Chastain

Name:

Jessica Howard (she uses her mother's maiden name as her stage name)

Date of Birth:

24 March 1977

Place of birth:

Sacramento, California, USA

Special moves:

Acting, practicing Krav Maga, speaking German, playing the ukulele.

Films include:

Zero Dark Thirty, The Debt, The Help, Take Shelter, Coriolanus, The Tree of Life
What you probably already know:
Jessica Chastain was discovered by Al Pacino, who handpicked her to play opposite him on Broadway in Salome, and then later recommended her to Terrence Malick for The Tree of Life. She was nominated for a Supporting Actress Oscar for The Help last year and is nominated again this year for Best Actress in Zero Dark Thirty. Although she is competing against Jennifer Lawrence, who recently won the Screen Actors Guild award for Best Actress in Silver Linings Playbook, Chastain won the Golden Globe so the pair are neck and neck. Since Chastain came into the public eye in 2010, she has already won over 35 critics' awards, and has gained much critical praise.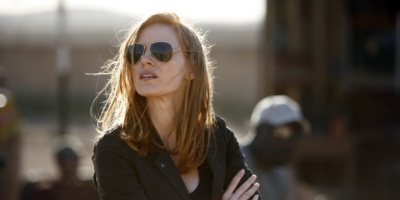 One of five children of a fireman father and a vegan chef mother, Chastain follows a vegan diet. Last year she was voted World's sexiest vegetarian (joint with Woody Harrelson) by PETA. She has said of her veganism "I don't want to torture anything. I guess it's about trying to live a life where I'm not contributing to the cruelty in the world." In order to gain weight for her role in The Help, Chastain drank gallons of soy ice cream, which she melted in the microwave.
What you might not know:
Chastain owns a three-legged dog called Chaplin (after Charlie Chaplin, who had an unusual gait of his own). She also has two other rescue dogs called Radley and Roman. For her role in The Debt, she spent four months learning Krav Maga, the Israeli martial art, of which she said "It's ruthless and made me feel bad ass". She also learned to speak German and some Israeli for the part. Chastain played a younger version of Helen Mirren, whom she describes as a "goddess". Her idols are all European actors, such as Kristin Scott Thomas, Isabelle Huppert, Tilda Swinton and Ralph Fiennes (who cast her as his wife in Coriolanus). During the filming of Zero Dark Thirty, she and Kathryn Bigelow watched Disney films to cheer themselves up – nothing says 'forget all that nasty waterboarding' like Oliver and Company, does it?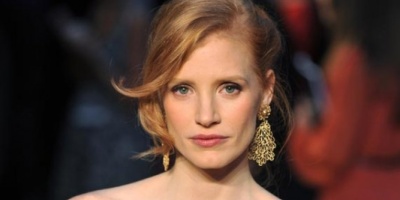 Jessica Chastain quotes:
On being very a very emotional person: "I have a bottomless well of tears."
On learning Krav Maga: "It's easier to do an action scene than a love scene. I love fighting. When the camera's not rolling, I'll usually punch some of the actors, just for fun."
"It's tough, acting. You have to walk two lines of a tightrope. There's the all-consuming fear of failure: I'm about to fall flat on my face. There's that and there's also confidence – you have to be confident in order to try things – and they fight each other all the time."
On sex scenes in films: "I always find sex scenes embarrassing. But at times they are necessary – I get that. It's a huge compliment when someone says you're attractive, especially when I was such an awkward kid – I was very tomboyish, with very short red hair, running around with cowboy boots on. So when someone tells me I'm a sex symbol I'm like, "what?". But I'll take what I can get."
What to say at a dinner party:
"Did you know that Jessica Chastain became the first woman in 50 years to have the leading role in both the top two movies at the US box office? When Mama was released (yet to be released in the UK) it knocked Zero Dark Thirty off the top spot."
What not to say at a dinner party:
"So I heard you were in Malick's new film, To The Wonder. Big role?" (her scenes were cut from the film).
Final thought:
For Take Shelter, Chastain was paid $100 a day. She has since said of her relationship to money: "If you get $100 or $1,000, you are still going to spend it. You'll just end up spending the $1,000 on a nicer house or whatever and then you'll have to keep the money at that level to sustain your lifestyle. But if you keep it at the $100 lifestyle, then you're fine. You can choose the job for the creativity and the challenges of the characters rather than the money." Deep.
Anything else you think the world should know? Drop us a comment below!
About The Author