Gore Verbinski to direct adaptation of graphic novel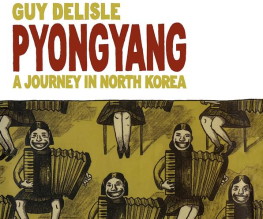 Director Gore Verbinski, best known for directing 3 Pirates of the Caribbean films as well as the upcoming The Lone Ranger, has confirmed that he'll be directing an adaptation of a black and white graphic novel, Pyongyang. Written by Guy Delisle, Pyongyang is based on the author's experiences in the DPRK capital as a French-Canadian cartoonist.
Gore Verbinski will be producing through his Blind Wink banner with The Pursuit of Happyness screenwriter Steve Conrad writing the script. By the looks of things Gore Verbinski will be steering away from his pirates and onto gentle grounds. Delisle was essentially one of the few Westerners allowed access to the tough North Korean territory before he created the graphic novel. Steve Conrad's script currently focuses on the protagonist's struggle and adjustment to his cultural differences and later, having to deal with accusations of espionage.
Delisle's Pyongyang has been deeply praised for its darkly humorous and insightful look at North Korean culture. Sounding somewhat reminiscent of the 2007 French animation Persepolis, we at BFF are just hoping Gore Verbinski won't feel the need to include drunken pirates or Johnny Depp. Someone point him in the direction of Tim Burton, no way he's getting his mucky hands on this goldmine.
Do you think Gore Verbinski will do Pyongyang justice? Is he the right director for the job? Tell us your thoughts!
About The Author