Cheat Sheet: Richard Ayoade

Name:

Richard Ellef Ayoade

Date of Birth:

12 June, 1977

Place of birth:

Whipps Cross, London

Special moves:

Comedian, actor, writer, director, poster child for geek chic

Films include:

Submarine, The IT Crowd, The Watch, The Double
What you probably already know:
Fans of The IT Crowd will know this fuzzy haired and bespectacled funnyman on sight, albeit not by his real name – they'll have him pegged as Maurice Moss. But, while his on-screen counterpart still lives with his mother, goes to bed in his glasses, carries a small water spray at all times (perfect for battling rogue cases of "hot ear"), frequently makes socially ignorant comments and stores a surplus of inhalers in his desk, Richard Ayoade is far less of a stereotypical geek.
However, despite being more self-aware than Maurice Moss, there's no denying that Richard Ayoade is almost as (if not more) socially inept. One journalist, during the hype of the first season of The IT Crowd, discovered the actor "cowering" behind his glasses and complaining that he was "terrible at talking, with words".
WORDS? ACTUAL HUMAN WORDS?! The horror. We've all been there Richard, don't worry yourself too much.
So why is Ayoade such big news at the moment? Well, he's all set to to star in The Watch, his first full-length feature movie. From The IT Crowd to Hollywood's funnymen, the real life Maurice Moss is set to join the likes of Ben Stiller, Vince Vaughn and Jonah Hill in this science fiction comedy caper, which follows the story of the hapless neighbourhood watch as they stumble across an Earth-threatening alien plot. As you do.
We've got a good feeling about this one…
What you probably don't know:
Okay, first things first; his surname. It's pronounced "eye-oh-wa-deh" and no, don't try to pretend you knew that already.
Now that we've got THAT outta the way, let's get real. Richard Ayoade is officially the coolest guy in London. Well, that's according to NME, at least. If you ask Richard Ayoade HIMSELF about that particular accolade, he quickly becomes mortified (as seen in his recent interview at The Guardian):
"Well, that's an error. I've no idea why they would think that. That does seem to be a category error. That's all I can say about that."
A category error. Don't you just love the way he talks?
The unconfirmed coolest guy in London is a very clever bunny. He studied Law at St Catharine's College, Cambridge (CAMBRIDGE!) where he not only juggled his degree books as efficiently as Elle Woods in Legally Blonde, but he also won the Martin Steele Prize for play production. And he was named president of the Footlights – s'pretty big deal. However, once again, if you ask him about that little patch on his CV, he'll brush it aside with annoyingly humble modesty:
"It was incredibly uncool, so I got it completely uncontested"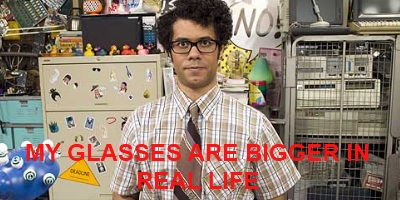 Basically, the one thing you need to know about Richard Ayoade is that he is overwhelmingly self-deprecating. He's pretty deadpan about acting, about writing, about his entire career… looking back over his interviews, there doesn't seem to be all that much he likes about his life. Which is VERY surprising, as there's no denying that Richard Ayoade is amazingly talented; he's written episodes for The Mighty Boosh, penned and directed spoof horror comedy series Garth Marenghi's Darkplace, bagged the outstanding actor award for his role in The IT Crowd AND was BAFTA nominated for his directorial debut, Submarine.
Phew!
But, despite all of this, Ayoade isn't all too keen on acting. For example, when he was recently quizzed about how it felt to be shooting a major motion picture, this was his response:
"It's like trying to tell a joke by recording one word a day into a Dictaphone out of order and reassembling it and hoping the cadence of it works."
He's the HUMAN EQUIVALENT OF EEYORE, ISN'T HE?
And, when asked about why he felt he was chosen to star in The Watch, he explained that it was all due to the fact that he was "exceptionally cheap" and that someone else must have dropped out. But, despite all of this self-hating (someone needs a wee confidence boost!), Ayoade's unique brand of totally deadpan humour makes every single interview he gives a wildly entertaining one.
Proof required? Check out his analysis of the orgy scene in The Watch…
"It was pretty awkward for me. I think it's difficult because generally whenever I'm in a room there's an enormous explosion of erotic tension. So everyone else I imagine they found it very hard to control themselves. But for me it's just boring."
Amazing. Just amazing.
Richard Ayoade quote:
"I find performing very difficult. It's difficult to be a good actor. I get very nervous, even though it sounds disingenuous, because you could legitimately go, 'Well, why do it?' Which is inarguable. There's no good response to that. Initially, it was a way of showing writing really. If you're writing for a no-money stage show, you can't just ask people to do stuff for no money, so you end up doing it yourself for no money."
What to say about him at a dinner party:
"Incredibly talented, hilarious and as smart as a well-groomed cluster of elite Nobel Prize winners in tailcoats, there's no denying that Richard Ayoade is THE man to watch over the next few years. Juggling the disciplines of writing, directing and acting with dexterity and ease, the London native seems just as keen to make a name for himself behind the camera as he is in front of it – and I'm pretty sure he'll succeed."
What not to say about him at a dinner party:
"His glasses are GINORMOUS!"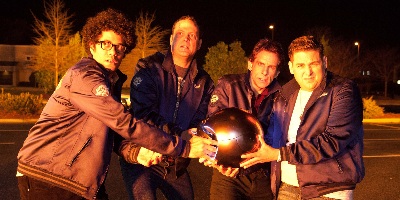 Final thought:
Richard Ayoade is set to shake off his The IT Crowd image and step into the world of big blockbuster acting when The Watch hits cinemas on Friday 24th August. But, even better, his upcoming directorial effort The Double, starring the talented Jesse Eisenberg and Mia Wasikowska, is set to prey on our innate fear of the doppelganger later this year. We can't wait!
About The Author