Pop Up Screens – Christmas Edition

Pop Up Screens normally set up camp in the great and wild outdoors of London, but for the Christmas run they've made their home at the Old Truman Brewery, Dray Walk, right next to Cafe 1001, Rough Trade and the Big Chill Bar on Brick Lane. Reflecting the bohemian (read: totes hipster) habitat of East London, the lovely organisers have created a rather wonderful Christmas-themed den for the lucky public. After you arrive at the venue, you are pointed towards a suspiciously familiar wardrobe adorning the back wall. Entering the magical land of Narnia (there's no lamp post or Mr. Tumnus, unfortunately), you are beset on all sides by a generous amount of fake snow, stubby Christmas trees and alluring smells.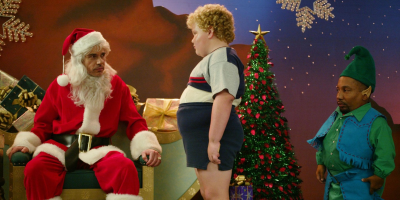 The bar is the highlight of Pop Up Screens. The popcorn is from the London Kettle Popcorn, and it is not hyperbole to say that it is some of the best you can find on the British Isles. Blending together both sweet and salty, it really does take you by surprise how tasty simple corn kernels can be. Best of all, a huge bag will only set you back £2. The mulled wine is delicately spiced, the hot chocolate comes with an array of delicious options (cream and a flake? Yes please) and even the beer tastes better than normal. Perhaps it's the lovely and polite staff, or perhaps it's just the novelty of being able to buy a drink on Brick Lane without taking out a second mortgage, but the atmosphere of a Pop Up Screen Christmas event just makes everything seem perfect.
It's also a rare treat to be able to see a classic film on the big screen. We have become so used to the convenience of DVDs and TV Christmas films that attending a screening of our favourite old films is rather refreshing. This was not the case, however, with Bad Santa, as having never seen it before I had no particular nostalgic attachment to Billy Bob Thornton. Imagine my surprise when it turned out that Bad Santa was not only amusing, but oddly sweet as well. Although the film had been sold to me as a simple gross-out comedy featuring Billy Bob screwing his way through the festive season and being generally detestable (and indeed he is), his character is actually much more 3-dimensional than you might expect from other stupid comedies of the same ilk. The depths of his degeneracy are balanced with his own self-loathing, and the changes his character undergoes are believable and rather endearing. My resolute scepticism that the film could be anything other than completely awful was replaced by a grudging, and then enthusiastic appreciation.
However enjoyable Bad Santa is, a sequel 10 years after the original film is ill-advised. Unfortunately, it doesn't matter how much we object, we'll be subjected to Bad Santa 2 in time for Christmas 2013. Oh well. We've gotten worse things for Christmas. Things we had to treat with a course of antibiotics.
If a Pop Up Screen Christmas event sounds like a lovely way to spend a couple of hours (and it should, we've been selling the hell out of it), festive screenings continue until this Sunday, 23rd December 2012. The Grinch, Elf, The Muppet Christmas Carol and another showing of Bad Santa are some of the showings still available, so you really have no excuse. Make sure you know what's on show at what time by checking the Pop Up Screens website.
Get down to a Pop Up Screens Christmas screening! It really is an excellent way to get into the mood of the season.
Christmas films, popcorn and mulled wine, nom nom nom. What are your favourite Christmas films? And no, Die Hard doesn't count.
About The Author