TGIM! The London Korean Film Festival 2012
We are currently in the midst of London's seventh annual Korean Film Festival, and this year the showing is as strong as ever. The wave of South-Korean filmmakers that have contributed some of this young century's finest films continue to impress on the international stage, with Kim Ki-duk's Pietà winning best film at Venice this year and Park Chan-wook's intriguing Stoker almost upon us. Korean cinema has not lost any of its capacity to shock, beguile and confound, and it's not just directors such as Chan-wook and Bong Joon-ho helming their first English-language productions that tells of the international enthusiasm for Korean cinema. An American remake of Chan-wook's modern classic Oldboy is currently in production, with Spike Lee behind the camera. It will be interesting to see how much of the original story's gruesome violence and deeply troubling story remain intact upon its release, scheduled for October 11th 2013.
The KFF showcases a different side to South Korea's national cinema, eschewing more widely received art-house fare in favour of a look at films we might otherwise never see, or even be aware of. It's a useful reminder that what gets bought and sold in international markets is only a fraction of the cinema being produced, and that inside South Korea there's a healthy appetite for homegrown features. Some films have eclipsed even the most popular Hollywood blockbusters at the box-office, including festival opener The Thieves. The KFF is well under way, but there are still a handful of films worth checking out.
A Muse tells a controversial story of a renowned poet, Lee Jeok-yo, who falls in love with a 17 year-old named Eun-gyo. Entering into a battle of self-destruction and the possibility of forsaking his glittering literary career, Jeok-yo struggles as he is confronted with the painful remorse that comes with old age, and a rival for Eun-gyo's affection. A Muse stirred up some controversy upon its Korean release, relating the the depiction of sex between the 70 year-old poet and the teenage Eun-gyo. Once again demonstrating that confronting taboo subjects is Korean cinema's bread and butter, A Muse doesn't dwell on the shock factor, instead producing an emotionally complex love triangle inside a melodrama that provides a powerful commentary on the inevitability of old age.
Period films gets a look in, with one in particular standing out. Gabi locates its setup in the twilight of 19th century dynastic Korea. Translated as Coffee, Gabi details the assassination attempt on King Gojong against the backdrop of palace walls that saw the introduction of the titular drink into Korean society. Filled with intrigue, romance and mystery, Gabi is familiar material in an unfamiliar setting. It's always interesting to watch foreign language films freed of their relation to the art-house circuit, and enjoy narrative-driven romps through history intended for an audience closer to home. Telling the unusual story of Korea's first barista and her entanglement in a Russian plot to take the throne, Gabi looks every bit as lush a production as Hollywood has to offer, and with personality to boot.
One of the most successful Korean films of the year, Deranged is a propulsive thriller that takes its cue from epidemic-based drama such as Outbreak and Contagion. When a group of bodies surface in the Han river, the cause of death is identified as being linked to an outbreak of virus-infected mutant horsehair worms. Taking control of the host's body, the worms eventually lead their victims to water, wherein they drown until the worms have had their fill. There's a conspiracy in there somewhere, too. We have to admit, thirsty mutant worms is a fairly startling proposition, and Deranged is certainly an apt title. However, Korea has proven itself to be more than adept at handling the barmier end of action. Bong Joon-ho's The Host was one of the best monster movies in decades, and certainly put Peter Jackson's excessive King Kong rejig to shame. Perhaps a Korean spin on the infectious conspiracy thriller could prove yet another surprising lesson in how to do a genre the right way.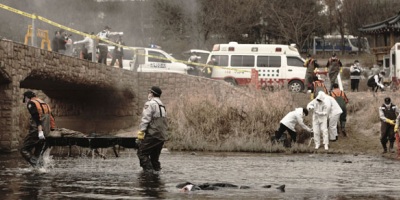 Presenting a homegrown take on another favourite past-time of popular American cinema, As One is a true-to-life retelling of the unified Table Tennis team that competed at the 1991 World Championships. A heightened tension followed the bombing of Korean Air Flight 858 in 1987, and did nothing to help the already fractious relationship between North and South Korea. Sport can be a heck of a healer, and it was decided that table tennis players from both sides would compete together (wait for it…) as one nation in the upcoming Championships. As One has all the hallmarks of great sports cinema, as the women who have only ever faced off as opponents are forced together in a bid to re-balance the anger felt across the country, and heal a gaping national wound that tore across the border.
The KFF annually brings together films that don't receive the acclaim and reverence afforded to Korea's filmmakers whose work has amassed considerable international attention. Really, it's an altogether more interesting proposition. By cherry-picking the boldest from Korea's more populist vein of filmmaking, the KFF offers a glimpse into a wider cinema-going culture not dissimilar to our own. By focusing on more genre-based cinema than most festivals dare, it gets to the heart of why people started going to the movies in the first place: to be entertained.
Have you got the K-bug? What films will you be attending at this year's KFF?
About The Author