300: Rise of an Empire gets ridiculous new trailer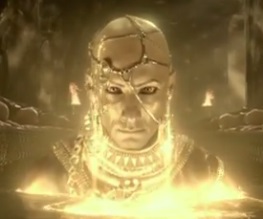 Love it as we do, it's hard to imagine a gaudier and more ridiculous film than Zack Snyder's 300. But, as we probably should have guessed, Hollywood's ability to one-up itself continues unabated; a film more stuffed with cloaks, abs and lingering, oversaturated shots of massive shiny weapons does indeed exist, and it's the sequel to 300.
300: Rise of an Empire is due out in the UK in a couple of months, and the very moment we popped it in our Top Superhero Films of 2014 blog (it DEFINITELY counts) Warner Bros. decided to drop a new trailer. Even without Gerard Butler, Michael Fassbender and co, who are all dead, it's quite startlingly silly. We love it.
LOOK AT THAT BLOODY TRAILER. Here are a few things we've noticed:
0:04 – Jesus, Noam Murro, do you want people to mistake you for Zack at parties? Literally the first solid thing we see in this trailer is in jolty slow motion.
0:09 – Swords, blood, lens flare. So far, so good.
0:17 – HELLO girl with swords! This looks great. No arguments.
0:21 – Ooh-er, those earrings. And the parting. Eva Green (Artemisia) looks a bit like she should be hanging out in Camden circa 2006.
0:30 – LEONIDAS NOOOO
0:37 – Lena Headey's back! Remember The Parole Officer, Lena? We do.
1:00 – Jesus, here comes Xerxes. He's looking absolutely no less camp.
1:10 – …is that?
1:18 – It is, you know. That's War Pigs by Black Sabbath. WAR PIGS. We can't write any more.
If you make it past the first eighty seconds, let us know what happens. War Pigs. Srsly.
300: Rise of an Empire is released in the UK on March 7th. Time to start working on those abs.
About The Author