50 Cent to join Lives of The Saints Cast!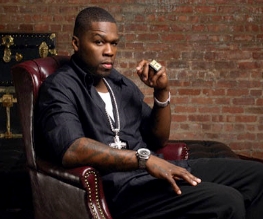 It's hard to pin down what 50 Cent is known for. Is it his rap-star quality, his G-Unit clothing line or just his pure ghetto-gangsterness? I happen to delight in his exquisite taste in jewellery.
But perhaps after turning his hand to everything else, even producing his own condom range, he'll take to acting like a hip hop gangster to a gang. Let's try not to remember his flat, emotionless self-as-self in the loosely based life story Get Rich or Die Tryin' because he may have come on leaps and bounds since his debut in the stereotypical gangster film. Certainly he's been all over the film industry since then. Like a rash.
And after playing himself, a drug dealer and an American footballer with cancer, Fiddy is all set to join Meg Ryan, John Lithgow and Joe Anderson in Lives of The Saints where he will be part of a group of people seeking redemption from past mistakes.
Maybe he'll surprise us and play an upstanding citizen (I'm thinking a doctor or policeman) who was so busy saving lives he missed his daughters ballet recital and has struggled to forgive himself.
Yeah right. What's the betting he'll be a gang leader/drug dealer/ghetto blaster who had beef with someone who dissed his homie so he whooped his ass and he ended up "murked".
Yes, that means dead.
About The Author