Aaron Johnson wanted for lead in Godzilla 3D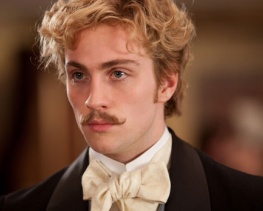 After Joseph Gordon-Levitt declined the lead human role in the new Godzilla movie, Aaron Johnson is next in line for the part. The Nowhere Boy star has just finished filming the Kick-Ass sequel, Kick-Ass 2 (due for a release date in July), and is now waiting to read a revised script for Godzilla before he accepts the role.
If Aaron Johnson takes the role, he will start filming in March, and Warner Brothers have scheduled the film for a 16 May 2014 release date. British director Gareth Edwards is to take the helm on Godzilla, after making his name with Monsters in 2010, a sci-fi film made for only $500,000. Edwards said of the planned Godzilla remake, that he wants it "to take a grounded, realistic approach". Edwards will also be making a sequel to Monsters, with a still relatively small budget of $5 million.
A couple of weeks ago it was announced that the script was being revised to make the characters older, even ex-military looking, and now it has transpired that Aaron Johnson is to play a soldier. Johnson recently appeared opposite Keira Knightly in Anna Karenina as the cavalry officer she falls for, although his performance was widely criticized as being too immature for the role and with dreadful facial hair (see above).
Warner Bros. will have to pick a lead soon to stay on track for their filming dates, so let's hope Aaron Johnson accept the role offered to him or Godzilla will have to be put on ice. Alternatively, they could pick another leading man – what's Nicholas Cage up to these days?
What do you think of Aaron Johnson as Godzilla's leading man??
About The Author