Hugh Jackman in new image from The Wolverine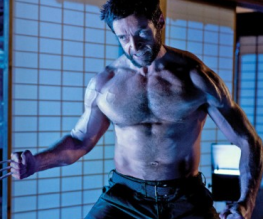 That's right, we have a new, shirtless Hugh Jackman image from The Wolverine to stare at longingly. Best For Film has more half-naked photos of Hugh Jackman than anywhere else on the web. Anyway, he appears to be standing in a Japanese room near an aquarium and it looks like someone has startled the Wolverine out of his shirt and got him rather angry. That's never a good thing to do to someone with KNIVES in his knuckles.
CHECK IT OUT: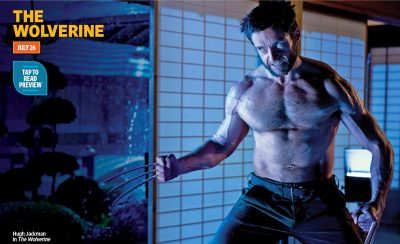 Click the image to enlargen and stare at forever!
The image comes straight from the new film about the one and only Wolverine, titled The Wolverine. If all the X-Men films blur into one for you, this one supposedly takes place after the events in X-Men Origins: Wolverine. Here's what we know about the new film so far:
The story will see Logan in Japan, fighting a mysterious figure from his past (thanks Wikipedia) and taking on an inner battle of emotional and physical strengths, where he is totally and utterly pushed to the limits. So we'll be seeing the Wolverine as we've never seen him before; bearing not only his washboard abs but his vulnerability and soft side. There's also a bit of a love story going on.
Wo. So far, our eyes have been delighted with a motion poster and a beautiful Japanese print-style poster from the new film. We are being so spoilt. And Hugh Jackman has already revealed that a cameo from a X-Men character will make it in, Famke Janssen anyone? Although if that were true, considering she's 48 now, she'd have to be playing a character at least 20 years younger than her 35-year-old self in the first X-Men. Hmm.
So there we have it. Despite looking unhealthily veiny, Hugh Jackman has left his malnutritioned Les Mis body behind and thankfully put on a few more pounds to be in tip-top shape for his returning character in all his glory.
Now let's get back to staring at him.
Does this new image get you all hot and bothered for The Wolverine? Do you want the franchise to just shut the hell up? Let it all out in the comments section below.
About The Author