Aaron Sorkin to take on Steve Jobs biopic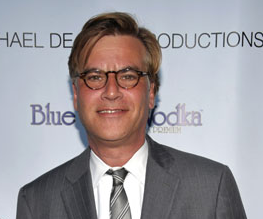 Correct decision, everyone. Well done. When it comes to writing almost illegally exciting adaptations of technology-based life stories, who on earth would you go to before Aaron Sorkin? The man behind The Social Network, The West Wing and one third of the team behind Moneyball, Sorkin was always going to be the perfect choice to adapt Steve Jobs; the official biography by Walter Isaacson. And so it was.
Sony paid a million dollars to acquire the rights to the book back when it was released in October of last year. Having produced both The Social Network and Moneyball, it makes sense that Sony would continue their rather illustrious relationship with the writer of both, and locked down Sorkin earlier this week (after initially offering it to him in November – way to play it cool, guys). An official statement from co-chairman Amy Pascal goes like this:
"Steve Jobs' story is unique: he was one of the most revolutionary and influential men not just of our time but of all time. There is no writer working in Hollywood today who is more capable of capturing such an extraordinary life for the screen than Aaron Sorkin; in his hands, we're confident that the film will be everything that Jobs himself was: captivating, entertaining and polarizing."
Yeah, it's going to be pretty bloody good, isn't it? "If you guys were the inventors of iTunes, you'd have invented iTunes." So WHO IS GOING TO PLAY the scoundrel? Whoever it is will be going up against Ashton Kutcher in the independent biopic Jobs, though with the full clout of Sony and Sorkin behind this project, we're not exactly worried they'll be light on possibilities…
Who do you want to see as Stevey? Reckon Justin Timberlake will cameo as Disgruntled Employee? Talk to us!
About The Author