Pierce Brosnan and Dominic Cooper to star in November Man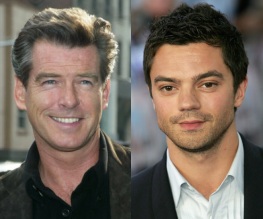 Mamma Mia! co-stars Pierce Brosnan and Dominic Cooper are reuniting for a by-the-numbers spy film featuring, like, Russians.
Based on Bill Granger's novel There Are No Spies, November Man will star Brosnan as a retired CIA agent who comes back for one last job and finds himself pitted against his former protégé Cooper. Think there'll be a deadly face-off?
Roger Donaldson, who last worked with Brosnan on 1997's Dante's Peak, is set to direct with a script from Michael Finch (Predators; yawn) and Karl Gajdusek (Trespass; oh Jesus fuck), whilst Brosnan's production company Irish DreamTime is co-financing.
We know that roles like this are a classic leg up for burgeoning action stars, but surely Dominic Cooper's too good to be playing Pierce Brosnan's bloody Padawan? We're disappointed in you, Dominic. Tash saw you on the bus that time and was really nice – next time she won't help you pick up the pages of script you'll inevitably drop again. She might stamp on them.
Have you read There Are No Spies? Anything useful to add? Comment away!
About The Author