Ab Fab film on the way?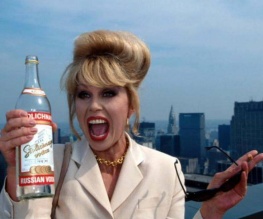 TV show Ab Fab (that's Absolutely Fabulous just to clarify) is apparently going to make the move to the big screen. Deadline has reported that Jennifer Saunders – creator and costar of the hit Brit comedy – is planning to write a film version of the show.
Ab Fab, which starred Saunders alongside Joanna Lumley, ran from 1992 to 2004 (although three more specials have recently been filmed) and followed the exploits of two friends as they boozed, smoked and shagged their way through middle age. Saunders' script will apparently begin with Edina (Saunders) and Patsy (Lumley) waking up on a yacht in the middle of the ocean, at which point some sort of mad hi jinx will undoubtedly ensue.
These days, Joanna Lumley (now 65) is rescuing Gurkhas and making programmes where she goes around Egypt in white linen. "Isn't she a bit old to be making more Ab Fab?" you ask. Well NO because watching old ladies do funny things is hilarious. Also, Joanna Lumley and Jennifer Saunders are cool. We're excited, dahlings.
About The Author