Almodóvar to try his hand at sci-fi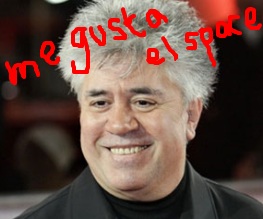 Pedro Almodóvar, the man behind last year's crazy ass thriller The Skin I Live In, is reportedly planning to get behind the camera on a sci-fi film. Famed for his unusual approach to the film-making medium, Almodóvar – whose films include All About My Mother, Volver, Broken Embraces and Talk To Her – has claimed that he would like to make a science fiction film inspired by classic movies of the fifties, such as Invasion of the Body Snatchers.
Well, we're certainly interested to see what he comes up with. In true Almodóvar style it'll probably be completely mad and full of men dressed as women and boobs and people's faces getting cut off by aliens and that kind of thing. All of which we thoroughly approve of here at Best For Film. Almodóvar himself said "I am still young enough to make a science fiction movie. The way I would like to do it is present something impossible in a real, domestic way. One of the scripts on my desk is of that genre, so I hope to make that."
Before he gets to that, though, Almodóvar's next project is I'm So Excited, a "light comedy" set on an aeroplane. We're starting to get an idea of what he might be up to. Almodóvar is trying to make ALL the genres isn't he? He's trying to create an Almodóvar monopoly on cinema! OMG HE'S TRYING TO WIN AT FILMS! STOP TRYING TO WIN AT FILMS, ALMODÓVAR! Oh alright, go on then. You sly dog you.
About The Author