Snow White and the Huntsman 2 will lack Rupert Sanders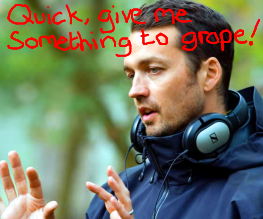 Snow White and the Huntsman was remarkable for several reasons. It was directed by a relative unknown, Rupert Sanders. It earned an impressive $400 million, despite being a messy CGI troll-a-thon. It was also not that bad, which in itself is astounding for a film starring Kristen Stewart. The antics of Rupert Sanders and Kristen Stewart also cause a minor (major) scandal when the former was photographed muscling in on R-Patz's girl.
Universal Pictures plan to make a Snow White and the Huntsman sequel, and begins shooting next year, but Rupert Sanders won't be involved. Apparently this was not an attempt by Universal to dissuade association between Snow White and the Huntsman and adultery – rather it was Rupert Sanders' decision, as he is currently engaged in a few other film projects and trying to avoid eye contact with Kristen Stewart.
This is not the last we have seen of Rupert Sanders. Universal have him penned for the Van Helsing reboot starring Tom Cruise. Seeing that Tom Cruise is now single, perhaps Rupert could place his sweaty hands on an arse that won't push them away. Meanwhile, the grope-happy director has been attached to The Juliet, a romance drama with sci-fi overtones. Neither of the projects sound like it will garner Sanders the success he had with Snow White and the Huntsman. Has Rupert Sanders burnt his bridges with his fiery libido?
Meanwhile, the producers of Snow White and the Huntsman 2 have confirmed that Kristen Stewart will reprise her role as the titular Snow White. Hopefully Chris Hemsworth will also sign on as the other titular role, The Huntsman, although there has been no word of this yet.
Hopefully the lack of sexual tension on the set of a film won't throw Kristen Stewart off her robotic and disinterested game.
Is Snow White and the Huntsman really deserving of the sequel? What can we expect from the return of Kristen Stewart?
About The Author