Amy Adams to play Mary Sue Hubbard. Sort of.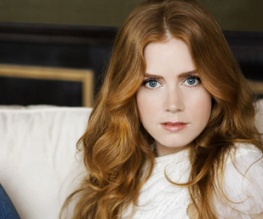 Three time Academy Award nominee Amy Adams has joined the cast of Paul Thomas Anderson's mysterious and as-yet untitled Scientology flick religious drama, which stars Philip Seymour Hoffman as L. Ron Hubbard a character who just so happens to embody every single solitary aspect of L. Ron Hubbard's character and actions. Totally coincidental.
Adams will be playing convicted fraudster Mary Sue Hubbard the wife of Hoffman's character, who returns from World War II an emotional wreck and creates a belief system to help himself re-engage with the world. The system becomes popular with other disconnected individuals (sound familiar yet?) including, in a choice bit of casting which seems to trade on his pretend breakdown, Joaquin Phoenix.
The film's original title, the distinctly Whovian The Master, was scrapped along with much of the script during its long stay in development hell. It's nice to see Anderson back behind the camera, but he's going to have to make very sure he doesn't sail too close to the wind with this project. We're excited. And Scientology's bollocks. That's right, Miscavige, we said it! Don't kill us please don't kill us.
About The Author