Arnie and Bruce confirmed for "substantial" roles in Expendables 2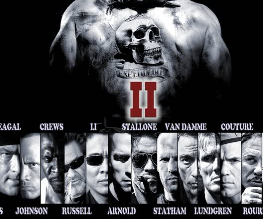 Despite sharing about 90 seconds of screentime in the first film, Arnold Schwarzenegger and Bruce Willis will return as Trench and Church for The Expendables 2 in "substantial" roles.
Realising the earning potential of a film packed with legendary meatheads, with The Expendables racking up a $275 million worldwide gross, Arnie and Bruce will return in The Expendables 2 with more than cameo-sized appearances. Stallone will be stepping aside and making way for Simon West (Con Air, Lara Croft: Tomb Raider) to direct the follow-up. If he gives this sequel the Con Air treatment we could really be in for a treat.
Filming will begin in October, and aside from Arnie, Bruce and Sly Stallone, we can also look forward to appearances from the likes of Jason Statham, Mickey Rourke, Dolph Lundgren, Terry Crews, and, fingers crossed, Jet Li.
About The Author