Arnie is back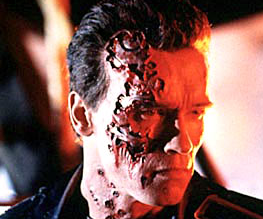 Having retired from acting and now retiring from politics, it makes sense that Arnie Schwarzenegger should bow out, turn gracefully away from the public eye and spend his remaining years gently toasting marshmallows in front of a soothing flame NOT. HE'S FREAKING WELL BACK AND HE'S GOING TO BE THE TERMINATOR AGAIN YEAHHHHHHH.
In a move of pure, unadulerated win, Arnie has decided the time has come for him to return to the franchise that made him a star, and has signed on for AT LEAST one more Terminator film. The company who owns the rights, Pacificor, are pitching their ideas to Lionsgate, Universal and Sony this very day, and then there'll be nothing to do but sit back and watch the offers roll in. There can be literally no-one in the world who thinks this is a bad idea.
No confirmation on any other players except for Arnie, but word on the street is Justin Lin (director of Fast Five) is flirting with taking on the project. A good choice? Let's be honest, whoever is in charge of this venture needs to throw caution to the wind and deliver an adrenaline-pumping, heart-popping, eye-gougingly ridiculous piece of cinema. Lin might be the perfect fit.
About The Author