The First Grader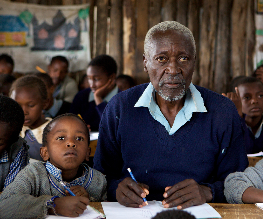 The touching second feature length offering from Justin Chadwick, the director of the fairy forgettable The Other Boleyn Girl and the BBC mini series Bleak House tells the true story of the history's oldest primary school student. Kimani N'gan'ga Maruge, aged 84, is a one time Mau Mau freedom fighter during the Kenyan war for independence, who takes advantage of the Kenyan governments' offer of free education for all. His battle, walking stick in hand, to take advantage of the education system he fought to secure for the Kenyan people is met with hostility and prejudice. Maruge's story captures the imagination of the country and, we are lead to believe, the world, leading to political controversy and fierce objection from village locals: a group the film sweepingly vilifies despite the fact that their children are missing out on equally vital education.
A reasonably original reworking of a well trodden story, The First Grader triumphs the power of education over bureaucracy and the archetypal life-changing educator who inspires the love of learning above everything else and makes towering personal sacrifice for the good of the pupils. Naomie Harris' (Pirates of the Caribbean: A Dead Man's Chest) turn as Jane Obinchu, the headmistress of the school is flawless. The poise and grace of her performance throughout carries the film past some forcefully passionate scripting from Emmy Award winning Ann Peacock (The Chronicles of Narnia), aided by the dogged charisma of newcomer Oliver Lintondo's performance. The real ace in the hole, however, has to be the effusive vitality of the real life class of Kenyan school children who make up Maruge's classmates; breezy and effortlessly funny at times, the giggling abandon of the students echo throughout the film's bleaker moments like an empty classroom in summer time. Chadwick balances the light-hearted with the galling, not-so-distant past through a series of painful flashbacks that retell Maruge's involvement in the bloody Mau Mau uprising and the subsequent British reprisals that robbed him of his wife and children, lending the film an, albeit simplified, historical facet.
The First Grader is blessed with moments of real authenticity; director Justin Chadwick's choice to shoot the film on location in Kenya with a mostly Kenyan crew pays tangible dividends in the look and feel of the film. In particular, the spell binding cinematography takes full advantage of the rich African countryside, painting the landscape with a mix of artfully soft focus, blinding sun flare and jarring wide angels. Backed by a soundtrack made up of playground rhymes and Mau Mau freedom songs the film leaves a lasting impression of a close to excellent telling of an African story told through African sensibilities.
By Sam Manu Gray
About The Author