Arnie set to clean up the West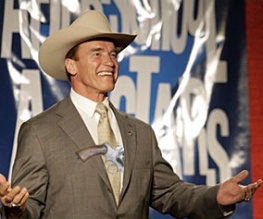 Despite previously saying that all his upcoming Hollywood projects would be suspended in the wake of his catastrophic life implosion, Arnold Schwarzenegger has revealed the nature of his first leading role in eight years – he's playing a cowboy.
The newly single ex-Governator will play a border-town lawman in Last Stand, directed by Kim Ji-Woon (The Good, the Bad and the Weird, I Saw The Devil) in his English-language debut (and Kim's not done anything in English before either, HAHAHAHAHA).
Arnie's Sheriff Owens – the part was originally intended for Liam Neeson, interestingly enough – will face a race against time to stop a drug lord getting to the Mexican border. Filming is scheduled to begin within two months, but we'll believe that when we see it. More on this, as usual, as we scurry about t'Internet and pick up tasty info-crumbs!
About The Author