Jaume Collet-Sera to direct live action Akira remake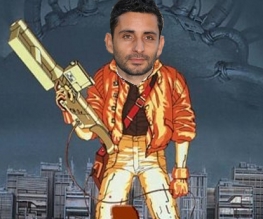 Warner Brothers have been trying to push through a live action remake of Japanese anime classic Akira for what seems like an age, and today it looks like they're one step closer to getting it into production, with Jaume Collet-Sera having been confirmed as director.
Now, we were worried enough when we heard names such as Robert Pattinson, Keanu Reeves and Zac Efron attached to the project, as well as the fact that the film will be relocated to 'New Manhattan' (Expect to see Bender, Leela and Fry making cameos) and follow the leader of a biker gang who has to save his friend, known to have superhuman powers, from medical examiners. Unfortunately, Collet-Sera's involvement isn't making us any more optimistic.
Though his last feature, the Liam Neeson thriller Unknown, was a fairly badass action film, Collet-Sera's previous efforts have been…well…shit. His directorial debut was 2005's House Of Wax, which he followed up with Goal II: Living The Dream, and then the God awful Orphan. Sounds like a safe pair of hands, right?
About The Author