Avengers continues to break records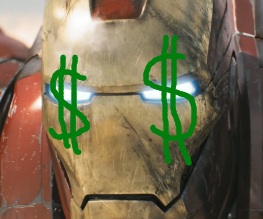 Avengers Assemble is continuing its inexorable rise to glory, with a phenomenal second weekend in the US and a coveted ticket to the worldwide billionaires' club.
Following last week's $207.4m debut, the Marvel superfilm has taken a barnstorming $103.2m on its second weekend in theatres – that's a drop of scarcely more than 50%, an unheard-of success and one which earns the film the slightly unwieldy title of 'Smallest second-weekend decline of any film to have achieved one of the Top 10 opening weekends of all time'. For context, Harry Potter and the Deathly Hallows: Part 2's second weekend gross was down 72% on its opening push, whilst The Hunger Games dropped 62% and even The Dark Knight lost 53% of its audience. AND all of those films took between $150m and $170m their first weekends. The Avengers (we can call it that if we're talking about the States, right?) came in higher and lost less, which is pretty much supposed to be impossible.
After becoming the fastest film ever to pass $300m (on Saturday) and then $350m (on Sunday), Disney estimates suggest that its $628.9m international gross was enough to nudge Avengers Assemble to an extraordinary $1.0021bn worldwide – that little '21' at the end is $2,100,000, by the way, so don't let it fool you. If this is confirmed it will nose The Dark Knight into twelfth place in the all-time box office rankings, and with only $22m (only!) separating it from current #10 Alice in Wonderland it seems unlikely that Iron Man, Thor and Co will be satisfied anywhere but the top ten. It's worth bearing in mind, of course, that Avengers Assemble has taken just nineteen days to amass this extraordinary fortune – yet another extraordinary feat. It's almost like there's a team of mighty heroes cooking the books for Marvel, isn't it?
Oh shit. Was The Avengers a documentary?
In other news, Dark Shadows opened to a vaguely respectable $28.2m box office in the States. It's not expected to make $100m domestically, which in case you've forgotten is what The Avengers just took in THREE SHITTING DAYS. Take that, Burton.
Wowzer. Hey Joss, can you buy Best For Film a Quinjet?
About The Author