Bane's Dark Knight Rises Prologue dialogue revealed?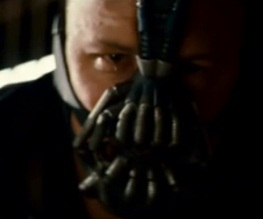 So last week we were lucky enough to get a first look at The Dark Knight Rises prologue that will be shown before IMAX screenings of Mission Impossible: Ghost Protocol. The general consensus (and certainly our opinion) was that the visuals were gorgeous, the IMAX experience was phenomenal and that, all things considered, our (pretty bloody high) expectations weren't just met, they were exceeded. There was just one problem. Bane.
Critics world-wide agreed that although Tom Hardy looked mesmerising as central nemesis Bane, no-one had any idea what on earth he was talking about. His mask meant that his dialogue was totally muffled, leaving the entire audience straining to make sense of his words. We assume they were words.
BUT it may be that help is at hand! According to What Would Tyler Durden Do, a Warner bros exec sent them a transcript of the six minute prologue, with full dialogue. It's impossible to know how authentic this is – God bless the internet – but having read it, it does genuinely seem to be a good match. The whole prologue script is available here, and before you read it goes without saying that spoilers are ahead.
Here's a tiny sample:
YOUNG MAN:
Have we started a fire?
BANE:
The fire rises.
Dr Pavel is screaming.
BANE:
Calm down Doctor. Now is not the time for fear. That comes later.
Gets you all warm and fuzzy inside, don't it? We'll do our best to find out how trustworthy this is, but at the very least it's a fair approximation. Stay tuned!
About The Author