Ben Kingsley joins Robert Pattinson in Life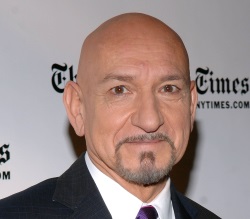 Cut-price villain du jour Ben Kingsley is finally heading out of the blockbuster jungle and back towards proper films. The Prince of Persia: The Sands of Time star (we know he'd rather we said Gandhi, but you don't get to play an evil grand vizier type and get away with it) has been cast as movie mogul Jack Warner in Anton Corbijn's new period drama.
Shooting began this week on Life, which stars Dane DeHaan (Chronicle, The Amazing Spider-Man 2) as James Dean and Robert Pattinson as Dennis Stock, the photographer assigned to shoot Dean for Life magazine in 1955, the year he died.
We love Dane DeHaan, and Robert Pattinson has been doing a reasonable job of shedding the critical stigma of Twilight – they both seem like solid choices for Dutch director Corbijn's latest project. And if there's one thing Ben Kingsley can do, it's be overbearing and authoritative. Plus Jack Warner was (mostly) bald! Following the miserable news that Kingsley has signed up for Night at the Museum 3, this was exactly what we needed to rekindle some faith in the man.
About The Author