Bill and Ted 3 on the way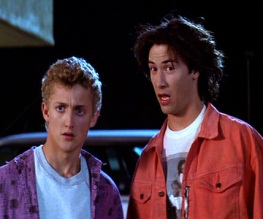 Last year we reported that a new Bill and Ted was on the way. Now we have more excellent news regarded the project!
In an interview with MTV Keanu Reeves said that writers were a mere "six weeks away from a draft". He went on to say that the plot of the third instalment will pick up where Bill and Ted's Bogus Journey left off – with the duo gaining worldwide stardom as part of the rock band Wyld Stallyns. Reeves says the proposed threequel centres around Bill and Ted's continuing struggle to write the "song that saved the world".
Although Alex Winter (Bill) is on board, along with the original scriptwriters, sadly absent will be George Carlin who played Rufus in the original two movies. Carlin, perhaps better known for his stand-up comedy, passed away in 2008. In earlier interviews Winter has stated that Carlin's absence has become the biggest obstacle for the project, and that his character Rufus will not be recast.
About The Author