Ray Winstone and Plan B to star in Sweeney remake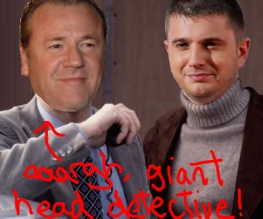 ActorLAD Ray Winstone and musician Ben 'Plan B' Drew are to star in a big-screen remake of classic cop show The Sweeney.
Drew, who previously appeared opposite Michael Caine in 2009 thriller Harry Brown, is to inherit Dennis Waterman's role as DS George Carter while Winstone will take over from the late John Thaw as DI Jack Regan.
Speculation over the lead role of Carter has been rife – well, a bit rife – since plans for the reboot were first announced in 2008, with actors including Ewan McGregor, Daniel Craig, Prince Harry, Orlando Bloom and Tom Hardy all being suggested at one time or another. It will be the third film adaptation of the series (which ran from 1975 to 1978), following Sweeney! and Sweeney 2. We suspect this one will be called Sween-E or possibly eSween to make it, like, modern and that.
The Sweeney is all about detectives doing detecting! Can YOU detect the deliberate mistake in the last paragraph? Join us next week for more detection fun!
About The Author