Bonjour, Monsieur Bond…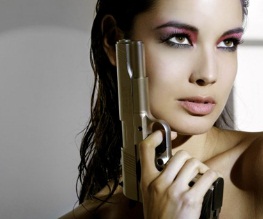 We're finding all this maybe-news from Bond 23 just a tad tedious; will it be called Better Late Than Never, or Red Sky at Night, or Carte Blanche? We don't know, we truly don't. And, if we're completely honest, we're starting not to care.
But hey, a possible new Bond Girl is big news in the film world, so we were pretty excited when we discovered that little-known French actress Bérénice Marlohe may be stepping into the high-heeled shoes of all the Bond babes before her. Gemma Arterton, Halle Berry, Jane Seymour, Ursula Andress… one thing's for sure, Bond never plumps for anything less than sizzling hot.
This would be Marlohe's first English feature film, as she's appeared primarily in French flicks and television shows since 2007. Her experience is limited, but just LOOK at how well she poses with that gun; that's all that matters in this game.
If the news turns out to be true, Marlohe will be hanging off Daniel Craig's arm in his third outing as the international man of mystery; I guess we just won't know until the film is released in November 2012.
We fancy bathing in nostalgia, so name your favourite ever Bond girl below:
About The Author