Brad Pitt and Michael Peña share in the Fury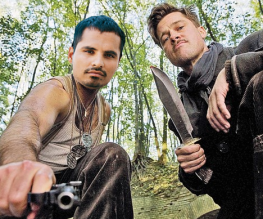 Brad Pitt will be joined by Michael Peña behind enemy lines in Sony's World War II thriller Fury. Last kicking ass and taking names in the excellent End of Watch, Michael Peña was most recently in a pilot for The List, which was not picked up. Thankfully, he's gotten right back on that horse, and by horse we mean the wild stallion Brad Pitt. Sexy. Let's hope Fury sees the world taking note of Peña's raw talent.
Fury sees Brad Pitt once again leading a band of brothers, commanding a Sherman tank deep within enemy territory during the fall of Nazi Germany in 1945. Along with Michael Peña, Shia LaBeouf (who claimed he had quit acting, the big baby) and Logan Lerman (Percy Jackson himself) will also be crammed into the tank. There won't be room for Brad Pitt's abs, guys!
Fury will see the return of the team of writer/director David Ayer and Michael Peña, who worked together on End Of Watch. There are rumours abound that Ayer actually wrote the part for Peña, but had to wait till all his pilots went into the crapper before casting him. How romantic.
Let's hope Brad Pitt doesn't steal the show, we want to see Michael Peña shine, dammit! On the other hand, Shia LaBeouf and Logan Lerman can be cannon fodder for all we care.
Fury will soon start production, and is due for 2014. Will Brad Pitt recycle his Inglourious Basterds accent? Let's hope so.
About The Author