Bridesmaids takes box office by storm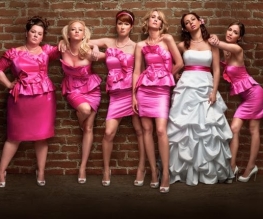 Since it opened in the States on the 28th April, Bridesmaids has raked in an impressive $152.8 million at the box office, making it the highest grossing R-rated female comedy in Hollywood history! Although, other than the super successful Sex And The City Movie, and the super shit Sex And The City 2, we can't really think of any other R-rated female comedies…maybe The Women? Except that was a 12A…and it wasn't funny.
Perhaps more impressive is the fact that Bridesmaids is now producer Judd Apatow's most successful comedy (Although he does divide opinion here at Best For Film HQ). The film, written by Apatow regular Kristen Wiig, outshone modern cult classics such as Knocked Up, Superbad and The 40 Year Old Virgin – no easy feat.
Like many of the current crop of American comedians, Wiig honed her craft on Saturday Night Live, and as well as appearing in more than one Apatow flick she has made brilliant cameo appearances in Ghost Town, and the fantastic Flight Of The Conchords. However, this is her first credit as a writer, and we hope that the massive success of the film will lead to more Wiig movies being given the green-light in the future.
Where do you think Bridesmaids ranks in Apatow's canon? We want to know!
About The Author