Captain Planet live-action film announced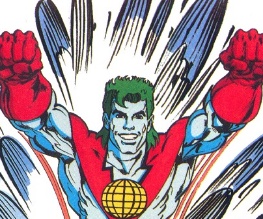 Captain Planet. Yes he's a hero. Yes he's gonna take pollution down to zero. But do you know what else he's gonna do? He's gonna appear in a new live-action film!
Taken down and dusted off from the trophy shelf of iconic nineties cartoons, Captain Planet is being brought to life by none other than Transformers producer Don Murphy. And that's pretty much the point where we stop caring.
Maybe this will be a total eye-opening experience; renewing not only the cartoon, but also the environmental questions of the nineties and bringing them to a new generation, heck, a new millenium. But in reality it will probably just disappoint half of us while the other half fall over themselves to be first in line to watch it in 1687D! YEAH!!!
About The Author