Casting News For Expendables 2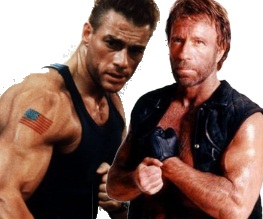 Ah, The Expendables. Nobody really expected an 80s throwback movie to make $275 million at box office but, hey, it did. Perhaps it was due to the mega cast, which included Sylvester Stallone, Jason Statham, Jet Li, Dolph Lundgren, Terry Crews, Arnold Schwarzenegger, Bruce Willis and Randy Couture, all of whom will return for take two.
How can they possibly top that?
Hmm, how about if they schedules some screen time for Jean-Claude Van Damme and Chuck Norris to flex their muscles? That's right, we're talking Jean-Claude Van Timecop Damme and Chuck Top Dog Norris. Can you imagine it now; one would spend his time flying karate kicks and the other would be arm wrestling Schwarzenegger… and winning.
At the moment, this casting choice is sitting squarely in the Big Fat Rumour category. Nothing's been confirmed, nobody's saying anything and the last rumoured cast addition (John Travolta) seems like it was just wishful thinking on the studio's behalf. Add that to the fact that JC turned down a role in the first movie because it was too one dimensional and it seems like this could all come out to big fat nothing. Then again, it's not like the two guys have much else on their plates at the moment and there's nothing like a part in a sequel to last year's big news to give your career a jump start…
About The Author