Chadwick Boseman could be Black Panther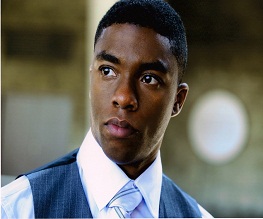 Chadwick Boseman, star of baseball movie 42, is the latest name to be thrown into the melting pot labelled Who Could Possibly Play Black Panther. However, keep in mind that this is still just a rumour and may not come to fruition – but the very fact he is so unknown may be what lands him the job. Remember, Chris Hemsworth was only Captain Kirk's Dad in Star Trek before landing Thor, and Robert Downey Jr was the third male lead in Zodiac before becoming Iron Man. Anyway, with Boseman's name being bandied about at least now we can be confident that Black Panther WILL be getting his own big screen outing.
Boseman faces stiff competition from seasoned actor Morris Chestnut and goodness knows who else on the shortlist. They will probably have added Anthony Mackie by next week. But if they're going for young and handsome, might we suggest Donald Glover? Whoever gets the part though, we're pretty confident that Marvel will do quite a good job of a Black Panther film with a view to, perhaps, his popping up to help the Avengers out?
About The Author