Charlize Theron confirmed for Snow White And The Huntsman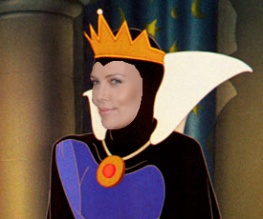 After months of speculation, Charlize Theron has finally signed on the dotted line to star in another remake of the fabled Snow White tale, this time titled Snow White And The Huntsman. Theron will play Ravenna, the evil Queen who orders the destruction of her beauty nemesis Snowy.
While the remake takes a different tack to the good old Disney classic, including a more prominant role for the Huntsman (hence the title) and some sort of bondage (don't ask), the character of the Queen is pretty much assured- evil, wicked, vain and beautiful (in the eyes of her magic mirror, and the majority of the male population of the world). So ice queen Theron would be perfect for the part – well in terms of looks anyway. Whether she can justify beating Angelina Jolie and Winona Ryder to the part remains to be seen.
Filming has yet to begin and with an anticipated release at the end of 2012, it seems we will have quite a wait to see Theron in full icy action. For now, fans of the actress will have to make do with repeats of her Dior ads to get their Theron fix.
About The Author