Chris Hemsworth to get all wet In the Heart of the Sea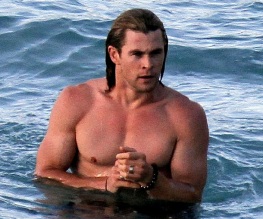 Chris Hemsworth is so hot right now. Not only has he darkened those creepy blonde eyebrows (for which Kenneth Branagh has still to answer in the European Court of Human Rights), he is also signed to star in, like, everything.
'Everything', in this case, being defined with contradictive specificity as 'In the Heart of the Sea'. Good call? Well, he's Australian (Russell Crowe will attest to the fact that those boys know how to rock the boat), he's a Viking god (and they basically invented that seafaring schtick), and it's also safe to assume that he will look damn good wet. Consider yourself convinced.
Charles Leavitt, writer of Blood Diamond, penned the script. Fortunately for Hemsworth, this project will not demand him to curl his tongue around a southern African accent, and therefore he will be free to focus on the sea-centric challenges at hand. Namely that when the good ship Essex comes off worst in a confrontation with a sperm whale, Hemsworth is left stranded in a little boat in a much bigger ocean, doomed to contend with the many miseries that an expansive, salty body of water is able to concoct. This may result in he and his handful of fellow survivors' revaluating their stances on cannibalism. Oh, and it's based on a true story (the one which inspired Moby-Dick, no less), so that's always fun. Basically, it's like The Grey, with sea water and hungry humans instead of Alaskan wilderness and angry wolves.
The jury is still out on the studio (DreamWorks is rumoured to have the upper hand), and the studio is still out on the director. Or however else these things work. But with Hemsworth's rising star attached, it looks like this voyage is finally on course to make it out of the bay.
About The Author