Cinderella remake: Kenneth Branagh in talks to direct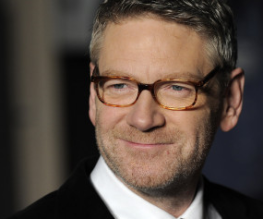 Over two years ago we broke the news to you that Disney's Cinderella was being remade, because Hollywood takes no prisoners. Now it seems that Thor director Kenneth Branagh is in talks to direct the live-action remake. Never Let Me Go director Mark Romanek was previously all set to go on directing Cinderella, but he has too many problems. No, seriously. He's backing out due to "creative differences" (roughly translates to: couldn't stand the thought of shitting on his career). Make of that what you will.
The exciting news is that we may be in for a Shakespearean midsummery night's dreamy take on the classic fairy tale with Kenneth Branagh on board, which suits us just fine. After all, the classically-trained director/actor has Hamlet, Much Ado About Nothing and As You Like It under his belt. Having said that, let's not pretend that anyone's gagging to see another Cinderella remake. Did you know that since 1899 there have been over 44 adaptations of the fairy tale? Someone put an end to this madness.
Cinderella currently stars Cate Blanchett as the evil bitch stepmother. She really is an evil looking bitch, isn't she? Have you ever seen her with her with a pair of evil eyebrows? If that's too frightening for you; Saoirse Ronan, Gabrielle Wilde and Alicia Vikander are in talks to play the rags-to-riches Cinderella princess. Stop STOP we can't take all this sweetness.
Disney are looking to film Cinderella soon, in time for a 2014 release. Here are some other fairy tale adaptations you can all look forward to over the next year: Maleficent, Jack the Giant Slayer and Hansel & Gretel: Witch Hunters.
Sigh. We'll never escape them.
Do you think Kenneth Branagh's the right man for the job? Do you want to see a Snow White and the Huntsman-style Cinderella? We do! Tell us your thoughts below.
About The Author