New World War Z trailer released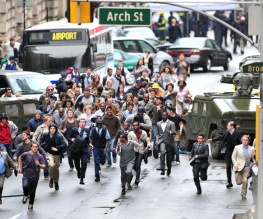 A new trailer from upcoming zombie film World War Z has been released, ahead of its planned premiere at the Super Bowl this evening. The 30 second teaser features Brad Pitt as UN employee Gerry Lane, running for his life as chaos reigns around him. The film has been adapted from the bestselling novel by Max Brooks World War Z: An Oral History of the Zombie War. Watch the teaser trailer below.
The novel the film is based on is a sequel to The Zombie Survival Guide, and is made up of a collection of first person accounts of their experiences of the apocalypse. The film is directed by Marc Forster, whose directing credits include Finding Neverland and Quantum of Solace.
World War Z also stars Matthew Fox (Jack from Lost), and The Killing's Mireille Enos. The screenplay was written by Damon Lindelof (Prometheus) and Drew Goddard (The Cabin in the Woods). The style of the film has been compared to dystopian drama Children of Men.
World War Z was originally to be released on December 21, but will now be released on June 21.
What do you think of the new teaser trailer? Let us know below.
About The Author