Colin Farrell could star in Saving Mr Banks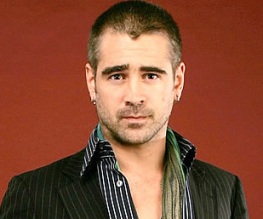 Step in time, step in time, Colin Farrell is in negotiations to star in Disney's upcoming film about the making of Mary Poppins.
Never need a reason, never need a rhyme, but if you did happen to be looking for both of those then you'll be glad to know that Saving Mr Banks will also star Tom Hanks (rhyme!) as Walt Disney and Emma Thompson as P.L. Travers.
Directed by John Lee Hancock (The Blind Side) from a screenplay by Kelly Marcel, Saving Mr Banks promises to explore the origins of Mary Poppins. Inspired by Travers' own Queensland childhood and her complicated relationship with her alcoholic workaholic father (the role that Farrell's considering), Poppins was eventually brought to the screen after Walt Disney himself spent fourteen years talking the author round.
Although the finished film received universal acclaim, Travers reputedly hated her association with Disney from start to finish; hard to believe (because who doesn't want to go fly a kite/feed the birds/love to laugh?) but true, apparently. Set mostly during her extended clash with Disney, Saving Mr Banks will also have flashbacks to Travers' aforementioned Troubled Childhood, which is presumably where Farrell comes in.
It's hard to shake the feeling that P.L. Travers would be spinning in her grave over this – an "intensely private person" whose original Poppins was vain, spiteful and selfish, it seems unlikely that a Disneyfied adaption of her life and times would have been her particular spoonful of sugar. Still, one person's medicine can be another's lime cordial/strawberry/rum punch: the last time P.L. Travers hated a Disney film, it won five Oscars. Fingers crossed. Or snapped.
About The Author