Dan Scanlon talks Monsters University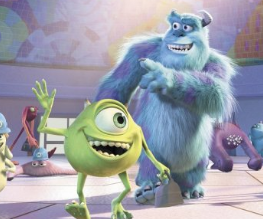 After the lack-lustre critical response to Cars 2, you can forgive us for being a little worried about Pixar delving further into the sequel/prequel universe. However, after hearing a little more about the upcoming Monsters University, we can't help but be excited about a jaunt into Mike and Sully's past. WHY ARE WE SO FLIGHTY?
As well as confirming John Goodman and Billy Crystal's involvement at the recent D23 Expo, director Dan Scanlon also confirmed the recasting of Steve Buscemi as Randall Boggs – the lizardy antagonist from the first film. New to the film will be Dave Foley (the voice of Flick in A Bugs Life), Julia Sweeny, Joel Murray and Peter Sohn ( voice of Emile in Ratatouille). As we were already aware, the film is set in the heady, clique-filled days of university and will centre on the journey of Sully and Mike from bitter enemies to best friends. Scanlon joked that the team had to do a lot of research into college life before starting the process : "At Pixar we do our homework before we start work and that meant literally going back to school. Most of us went to art school and have no idea what a real university looks like." Bless.
About The Author