Darth Vader joins Instagram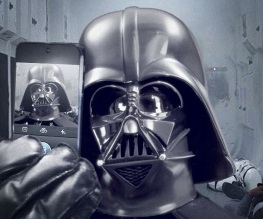 Well, there goes whatever shred of positivity we had towards the new trilogy. Star Wars now has an Instagram account, and what's it being used for? Selfies of Darth Vader.
Selfies. Of Darth Vader.
The Dark Lord of the Sith has marked his first appearance on social media with a photo tagged #selfie and #gpom (that's Gratuitous Picture of Myself, apparently), which seems to have been taken on the Tantive IV (that's Princess Leia's blockade runner from the beginning of A New Hope, just in case you're less cool than us). You can see it here – or, if you'd rather not give it the dignity of another hit, below.
We're going to go out on a limb and say that this is the worst thing that's ever happened to cinema. BRING BACK JAR JAR! Anything but the Chosen One popping mirror shots and joining #teamfollowback. Still, at least he can't really do #whatiworetoday (at least for more than one day)…
Do you hate this too? Quite right.
About The Author