David Fincher working on Dorothea Lange biopic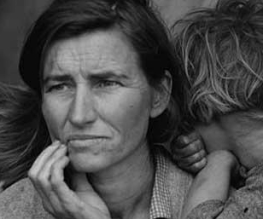 Who'd have thought after the disappointment that was Alien 3 that David Fincher would go on to be one of the most consistently great directors working in Hollywood today? And despite his current commitments on The Girl With The Dragon Tattoo, the follow up to last year's Oscar winning The Social Network, Fincher is already planning his next project, a biopic of the Depression era photographer Dorothea Lange which he is set to executive produce.
Lange snapped some of the most iconic images of dustbowl America in the 1930s, and her work, specifically the photograph Migrant Mother (above) was said to have inspired John Steinbeck to write The Grapes of Wrath. Perhaps more impressive is the fact that Lange managed to forge this mighty reputation whilst also suffering from polio, which she contracted as a child.
The key players on the film are largely unknown. Documentarian Leslie Dektor will direct in what will be his first feature film and Angela Workman, currently writing the script for another biopic, Brontë, is on screenwriting duties. However, with Fincher backing the project, surely this story will reach a wide audience.
About The Author