Massive Dark Knight Rises spoilers emerge from Pittsburgh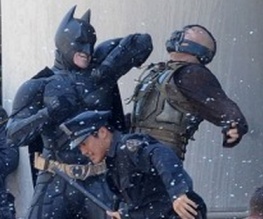 Just a few days after the Dark Knight Rises cast and crew arrived in Pittsburgh, spoilers have started to leak from the set as eager fans pap Christian Bale and co at work. Please be warned, this article is saturated with spoilers for the Batman threequel – proceed at your own risk.
Still with us? Good for you.
We've cherrypicked just a few of the dozens of images which have already appeared – there are stacks on Getty, and various fuzzier iPhone photos on pretty much every website you care to name.
Christian Bale (in a slightly plasticky new Batsuit) bringing the thunder to Tom Hardy:
Escaped convicts (this would be Bane's notorious prison break, we're guessing) alongside a brand new Tumblr in its original, pre-Bat livery:
Batman and Bale (neither in restraints) with a whole lotta GCPD cops:
BATPOD BATPOD BATPOD:
A decent look at Bane's costume:
Bane standing on the Tumbler – that paper he's holding is a photo of Harvey Dent, which he subsequently ripped up:
There's also a video of Tom Hardy's balancing act, as well as a close up of the Tumbler:
Have a nosey if you want to see even more pictures – they're everywhere, and with a location shoot like this we can expect to see more and more. Fingers crossed for some Catwoman spoilers next!
What do you make of these photos? Let us know below!
About The Author