Dawn of the Planet of the Apes debuts chilling new poster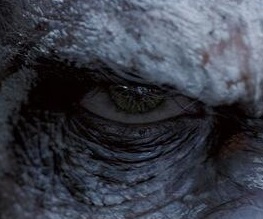 We loved Rise of the Planet of the Apes (despite its stupid name) when it came out back in 2011, and we're no less excited about its sequel, Dawn of the &c of the &c, which is due out next July. And today, we've been given our first close-up look at ape-in-chief Caesar (Andy Serkis), whose fledgling simian nation must withstand human attacks.
Click, as ever, to enlarge:
There's not a lot to go on here, although the addition of warpaint to Caesar's pugnacious chops hints at the development of the ape society. We're also excited by the news that DotPotA's release has been moved up a week from July 18th to July 11th, putting it in direct competition with Fast & Furious 7. If we had to guess, we'd say that Fox are banking on James Wan's dangerous driving flick being delayed following the death of star Paul Walker last week.
Directed by Matt 'Cloverfield' Reeves, who takes over from Rupert Wyatt, and starring Serkis alongside Gary Oldman, Kodi Smit-McPhee and Keri Russell, Dawn of the Planet of the Apes continues to excite. More info as and when.
Will you be heading back onto the Planet of the Apes? Let us know below!
About The Author