Dawntreader Premiere hits London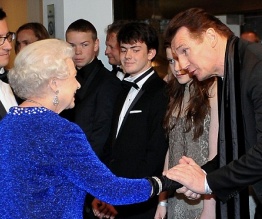 Last night saw yet another big budget family premiere following Harry Potter And The Deathly Hallows Part 1 a few weeks back. The third instalment in Chronicles of Narnia franchise The Voyage of the Dawn Treader opened last night in Leicester Square, and with an absence of many Christmas specific releases this year, it looks set to be a huge success.
Liam Neeson – voice of Aslan, and Simon Pegg – who voices the character of foolhardy mouse Reepicheep were amongst those gathered in the snow on one of the coldest nights of the year so far. However perhaps the most notable appearance of the night was from the Queen and Duke of Edinburgh. Her Royal Highness spoke with cast members and director Michael Apted on the red carpet, and even donned a pair of 3D glasses to watch the movie!
This latest film in the Narnia fantasy series tells of siblings Lucy and Edmund and their return to Narnia with cousin Eustace. They find themselves aboard the Dawn Treader and are re-united with Prince Caspian, who is now King, (Ben Barnes) and embark upon an action packed trip to the edge of the world.
Georgie Henley and Skandar Keynes return once again in the roles of Lucy and Edmund, with Edmund being played by young Brit actor Will Poulter (Son of Rambow). There has been quite a buzz around Henley's performance and unsurprisingly she's already drawing comparisons with Harry Potter's Emma Watson. Want to see how she lives up to Hermione? You'll have to wait until December 9th when The Voyage of the Dawntreader hits cinemas nationwide.
About The Author