Dead Awake Trailer released online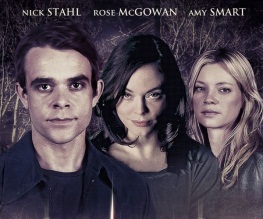 An intriguing trailer for new chiller Dead Awake has been released online, and its approach has proved somewhat divisive.
The trailer gives little away of the actual plot, but certainly leaves the viewer asking questions. This is no bad thing, as Dead Awake suddenly looks a lot more interesting. From what we could gather, the film is set 10 years after a car crash which has hugely affected the lives of the three leads. Although we are shown Nick Stahl's character in a coffin, this may be deceptive as we are kept guessing throughout which of the three are dead or alive. The occult is certainly involved in some way, and the three main characters seem to have a complex and twisting relationship.
Reaction to the trailer has left some fans confused, with others singing the praises of the ambiguous approach to the promo. It has certainly attracted interest, which is after all the purpose of a trailer, and has resisted the temptation to give away the entire story of the movie, as so many trailers do these days.
Starring Rose McGowan, Nick Stahl, and Amy Smart, Dead Awake looks to be an interesting prospect. Answers can be found when it hits cinemas on December the 3rd.
About The Author