Diana gets first teaser trailer. No. Just… No.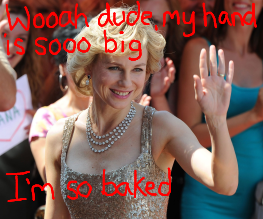 Diana, the upcoming biopic of Princess Diana (yes that's still actually happening) has unleashed its first teaser trailer onto an unsuspecting public. We don't know about you, but it made our skin crawl. Center focus shots, shadowy evil paparazzi, soppy piano music worthy of Coldplay (we rather like them, but still), the trailer feels more like satire than an showcase of Naomi Watts' Diana. It's horrifying, really, but you must take a look.
Just like the real Diana, Naomi Watts is rather quiet in the trailer. So quiet in fact, that we believe that she doesn't actually say anything. It's almost as if we're being shown a statue of her. A statue that shuffles around in highheels and looks awkward and shy and SO SO MODEST in front of her adoring public, but a statue nevertheless. Perhaps we're being too critical of the Diana trailer, it is only a minute of footage after all, but the tone of the film has been revealed – a reverential, soppy affair that will surprise no one and appeal entirely to uncritical emotion.
Diana focuses only on the last 2 years of her life, her relationship with Hasnat Khan (Naveen Andrews from Lost, naturally) and, of course, her tragic death. Considering that every person with a camera is portrayed as morally bankrupt, perverted and downright orc-like in the short trailer, expect Diana to be just a teensy-weensy bit critical of the press.
This is subject matter that just doesn't need to be made into a Hollywood film. Diana comes out on 20th September 2013.
How do you feel about Naomi Watts as Princess Diana? Are you excited for a Diana film, or is it just distasteful?
About The Author