Eddie Redmayne leads Stephen Hawking biopic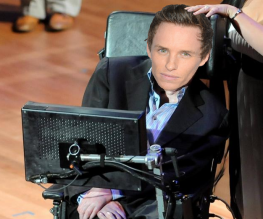 Eddie Redmayne, star of Les Misérables and the much under-appreciated Black Death, has signed up for the Stephen Hawking biopic Theory Of Everything. It's a great casting choice – Eddie Redmayne is a fantastic actor, and has the look of the young Stephen Hawking before the motor neuron disease set in. We were rather looking forward to it… until we read the brief synopsis for Theory Of Everything, that is.
Theory Of Everything is apparently to focus on Stephen Hawking's marriages, rather than on his work in quantum mechanics, because who would want a film exploring the man's work in one of the most important and relevant areas of modern science? No no no, the public want A LOVE STORY, and that's what we're getting. The film is still in pre-production, hopefully the filmmakers will take our thinly veiled criticism to heart and give Eddie Redmayne something more interesting to do than yet-another film about a relationship. Or perhaps it's just the synopsis the producers have given the film to entice interest and financial backing. Only time will tell.
In other casting news, Tracey Ullman looks to be joining the cast of Into The Woods, based on the smash-hit musical. With a plethora of big names playing fairy-tale characters that need to be taught lessons, Tracey Ullman will be facing off against Jake Gyllenhaal, Meryl Streep, Johnny Depp, Emily Blunt and Chris Pine. It should be an entertaining watch! Throw an Eddie Redmayne in to the mix and we'll be there opening night.
Is Eddie Redmayne a good choice for Stephen Hawking? Let us know in the comments below!
About The Author