Diana US release is a car crash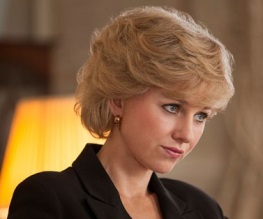 Oliver Hirschbiegel's ghastly Princess Diana biopic has absolutely died on its arse in the United States, which is only right and proper.
Taking just $65,000 nationwide (that's 0.232% of the first weekend gross of Ender's Game, which also opened this weekend), Diana received a critical mauling that, if anything, was more vicious than that meted out by journalists on this side of the Pond. The Americans, of course, tend to be more precious about the Royal Family (and any history that goes back more than forty minutes) because they lack any of their own.
Perhaps Oliver Hirschbiegel could go and make a film about the Duke of Manchester, a convicted bigamist who tried to shoot his first wife with a spear gun and now lives in California, having been expelled from Canada (seriously, how do you manage to piss off the Canadians that much?). America can have him.
Did you see Diana? Did you hate Diana? Obviously you did.
About The Author