Diaz, Jovovich and Streep in the Expendabelles firing line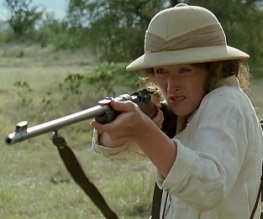 Is this really happening? Avi Lerner, the B-movie producer who shot to prominence when he produced The Expendables and has worked EXCLUSIVELY on crap movies (The Mechanic, Conan the Barbarian, Drive Angry, Texas Chainsaw 3D, Lovelace, Olympus Has Fallen…) ever since, has started dropping hints about the actresses he's courting for the all-lady spinoff of his grotesque high-octane circle jerk.
Cameron Diaz and Milla Jovovich, both experienced action idiots after their roles in, respectively, the Charlie's Angels and Resident Evil franchises (to say nothing of The Three Musketeers), are reportedly Lerner's top choices. He also hopes to land Meryl Streep in what we presume will be a slightly toothier version of Helen Mirren's RED role – think Stallone with tits and a perm. More than he's got already, we mean. Now, this is where we really start to struggle with the Expendabelles concept – Jovovich and Diaz can both suffer Brandon Lee-style mishaps onset for all we care, and someone probably wants to see a load of women in leather get in a fight in Bahrain, but MERYL STREEP? The woman holds the record for most Oscar nominations AND for most Golden Globe nominations. She has three Oscars. Eight Globes. Two BAFTAs, two SAG awards, two Emmys. LOADS of other awards we don't care about. YOU ARE TOO GOOD FOR THIS, MERYL.
Anyway, the plan is to begin shooting as soon as Lerner can find a female director with absolutely no idea what 'feminism' is. Ugh.
About The Author