Disney to be played for the first time by Tom Hanks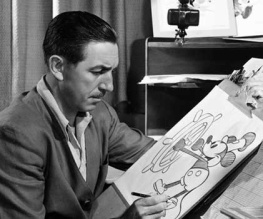 Tom Hanks has begun shooting on Disney's upcoming Mary Poppins drama Saving Mr. Banks. The film, which will chart Mr. Disney's twenty-year campaign of harassment – sorry, that should read "passionate quest for the film rights to" – P.L. Travers' series of books about the magical English nanny. Travers was initially skeptical, believing that a film could never do justice to her story, but Disney eventually talked her 'round.
Disney himself will be played for the first time ever in film by Tom Hanks – who else? – with Emma Thompson taking the role of cagey author Travers. Given that this is a Disney produced film, it's unlikely that Tom Hanks' portrayal will show Disney in anything but a glowingly favourable light, so we can probably expect the screen Disney to be a perfectly affable fellow. And who does affable fellows better than Tom Hanks? Travers, meanwhile, is described in the synopsis as an "uptight author", and while Emma Thompson is as lovely as they come, she can play uptight and prickly with the best of them, so the casting for this seems pretty perfect.
As the relationship between Disney and Travers develops, we will see flashbacks to both of their childhoods, where that dramatic staple of Daddy Issues will rear its abrasively paternal head. Travers' childhood in Australia will be of particular focus, given that many of the characters in the book were inspired by people from her past there – not least of all the object of Mary Poppins charity, Mr. Banks, who was based on Travers' own father. Through these flashbacks we will see how much the story and its characters mean to her, and come to understand why she's so reluctant to see the film ruined by Disney.
The classy cast is rounded out by Colin Farrell (as the aforementioned Mr. Travers), Ruth Wilson, Rachel Griffiths, Bradley Whitford, and Paul Giamatti.
Disney will be bringing… er, Disney to the screens some time in 2013.
About The Author