Disney to bring back the Rocketeer?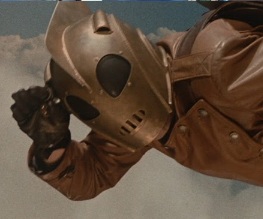 Despite having plenty of superheroes flying in and out of the cinema at the moment – think Avengers Assemble, The Dark Knight Rises, Man Of Steel and The Amazing Spider-Man – rumours abound that Disney are set to breathe new life into 1991 classic, The Rocketeer.
Everybody loves a remake, after all.
The Rocketeer followed the Pacific Comic story of the same name, in which a 1930s racing pilot named Cliff Secord (Bill Campbell) got his mitts on an extra-special rocket jet pack. You know what THAT means, right? He can fly! Cue a brand new mask, a superhero with an old school attitude and a Nazi-laced battle.
Yes, fine. It sounds just a teeny-weeny bit like Captain America fused with Iron Man. But does that really mean that The Rocketeer can't zoom outta retirement and take on the likes of the Avengers at the box office?
At this stage, the project is very much unconfirmed – Disney are still hunting out a writer – but, being as superheroes seem to be the fashion at the moment, we imagine it's pretty likely that the film will make it through the development phase. Maybe it would work better as an animation piece, aimed at the kiddiwinks. Or, just maybe, Disney will be able to reignite the feel of the 1930s superhero well enough for an adult audience.
Whaddaya reckon – is The Rocketeer worth bringing into the 21st century?
About The Author