Donald Sutherland onboard for Hunger Games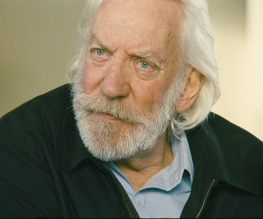 In an attempt to make this "the next significant franchise for the Harry Potter/Twilight crowd", Lionsgate have announced that Donald Sutherland will be playing President Snow in The Hunger Games. Last week we were excited about these casting announcements, now it's becoming a bit of chore, curse you Hunger Games, curse you.
Sutherland joins a ridiculously talented and large cast, with Lenny Kravitz and Toby Jones announced last week already adding to Jennifer Lawrence, Josh Hutcherson, Elizabeth Banks, Woody Harrelson, Stanley Tucci, Wes Bentley, Toby Jones and a bunch of other actors filling out the tributes from each district.
In Suzanne Collins' series, America is referred to as Panem after a devastating apocalyptic event has shattered the country. After an a rebellion against the rulers of Panem was quelled The Hunger Games was created; a reality TV/gladiatorial event that pits two tributes from each of the twelve districts in a fight to death as a means of keeping the poorer districts in line with the richest one (that being the capitol of Panem, incidentally called The Capitol!). The last tribute standing is declared the winner. Sutherland's Snow is the ruler of Panem and features very little in the first novel, but casting the best actors possible in each role will surely up the quality of the final film.
The Hunger Games is shooting now in North Carolina with a release date of March 23, 2012.
About The Author